The lives of the Saints are a blueprint for success. I would say most of the time, I thought they were Holy People who performed a miracle and were blessed, and so were in heaven. Never really considering them to be influential in my life, other than praying for their intercession, associating them with antiquity. I never really considered there might be more recent Saints. I missed the mark on really what they are and why the Church identifies them and promotes them so much.
Our parishes usually offer a calendar as a gift each year, during January. You know these calendars, right? They are the ones with the funeral home advertisement on the bottom. I enjoy seeing that daily, constantly reminding me that Death is knocking, and its going to cost a lot! Maybe they put that on so you can schedule your appointment? That is why they give a calendar!
The Calendars usually are notated with the readings for the day, Liturgical Color, and the Celebration for the day. Get one of these calendars and each day, check out the Saint for that day. They have stories to tell!
The Communion of Saints is not just a group of ancient people from way back when. Saint Pope John Paul II during his Pontificate canonized more Saints than any other Pope in History, Why? He wanted to focus on Saints from current times. Times we can associate with on a more personal level. The Apostles are great people to immolate, but there becomes a disconnect when our life is so much different than theirs. What the Pope wanted to do was to show the extensive background of Saints. Not just Priests, Bishops, Religious Brothers and Sisters, and those of centuries past. Saints of today, of our time and who were Married, Single, Male, and female, every day people.
St. Gianna comes to mind. She was a doctor in the 1960's. Her children were present at her canonization along with her husband. They are alive today, and go on speaking tours to discuss their mothers life. That is pretty recent. St. Pope John Paul II, Mother Teresa, Padre Pio all lived during most of our lifetimes. The Communion of Saints are a vast army of personalities and backgrounds. Which brings me to my next point.
Study the Lives of the Saints
When we study the lives of these Holy men and women we can see how they were not too different than us today. Yes, even the ones from years past can help us today. I found a new saint that I had no idea even existed!
St. Mary of Egypt (380 AD). This Saint had an irresistible desire for sex. So much so she set out on a Anti-pilgrimage for Jerusalem for the feast of the Exultation of the Holy Cross. Her plan was to feed her desire for lust in Jerusalem with the pilgrims in the city. Her conversion story is awesome and so interesting. In today's society, she would make a great example for the world.
There are so many different books out there to use as a daily resource to read. One suggestion I would make would be to have some reading material on the life of the Saints by your bed. Read about one each evening before bed, or when you wake in the morning. Butlers lives of the Saints is a great source. I keep these close by for when any of the kids have a question about a specific Saint.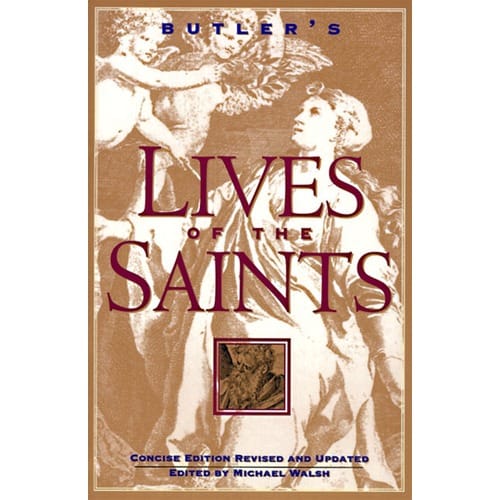 My bedside book I use is A Year with the Saints. I like the presentation of this book as well. It has another book that I have purchased but yet to year called A Year with the Church Fathers. They also have a set, that like everything else I purchase came out AFTER I had purchased these two separately! But this set includes Angels, and a year with the Bible. I have not had a chance to get mine yet, but if your interested in them and want to check it out and let me know by posting in the comments that would be awesome!
Then you can always pick a particular Saint and there are TONS of books on individual Saints. Getting to know them better, helps us to get closer to God too. That is their primary purpose, when they were alive, and now that they are with Him in heaven. Their goal is always to draw your attention towards the Heavenly promise, to live everlasting with the Father.
All Saints Day
In line with everything we are discussing, we can not leave out the Feast of All Saint's Day. This Feast happens to be a Holy Day of Obligation here in the United States.
Our friends outside of the Church may start to ask questions when it comes to seeing our devotions to the Saints. Our Statues, our pictures and books on their lives. They may say something like, "I just pray to Jesus, I don't need anyone else but Him". Absolutely true! We do not need anything or anyone but Jesus. HOWEVER, Jesus has always allowed His creation to play a part in the story of Salvation. When Jesus raised Lazarus from the dead, He called out and had the men roll the stone away from the tomb. He was about to raise a man from the dead, but yet he couldn't tell the stone to move? The point is he could have, but by them taking part in moving the stone, they took part in that redeeming moment.
Another way to look at our asking the Saints for intersession. Everyone who is part of a faith community, will hear at some point someone saying: "I need some prayers, please pray for me" or our leaders asking us to pray for so and so for their healing, or they lost their home or any other number of life events that would need prayer. We agree, as a family, to pray for our fellow brothers and sisters in Christ. The Church does the same thing, only we do not feel that because of death, those who have gone before us, are separated from the prayer chain, but more closely united to it. Those who are present in heaven, have the great reward of being right at the foot of Jesus to pray for our needs. Speaking of prayer, we also have a prayer corner if you need prayers!
The Feast of All Saint's day is a day to not recognize the ones we know are Saint's but to acknowledge the millions of others that we do not know about. To say thank you for their constant prayers and petitions. They are in heaven looking down, cheering us on. They care about us, because they desire what God desires, us to be united with Him.
You have homework!
Begin today with the decision to follow these Saints who have gone before us. To allow the work already done to bare fruit in your life. Put a plan in place and follow that plan. Find some good reading on the Saints and study them, learning from them. It is not an option to say, that is something nice I will do one day. We must choose to do better.
If you have ways in which you focus on Saints or if you have a good resources for reading. Please post in the comments below! Who is your favorite Saint and why?